With their unique blend of decadent post-rock, emotional shoegaze and goth rock recalls, Klimt 1918 is with no doubt one of the most innovative and interesting bands active nowadays, contributing to enrich with impressive records the already wonderful roster of german label Prophecy Productions.
Born in Rome in 1999 by musicians who already played in several local metal and rock bands (the brothers Marco and Paolo Soellner with bassist Davide Pesola), Klimt 1918 have started crafting their own musical formula initially with an interesting demo (Secession Makes Post-Modern Music), but above all with the foundamental following albums Undressed Memento (2003) and Dopoguerra (2005), where they paints a cinematic world made of melancholic and nostalgic feelings evocated through excerpts of 80's and 90's music, liquid guitar soundscapes and enthrallic melodic vocal lines.
The formula is enriched and never repeated in the same way on the following record Just in Case We'll Never Meet Again (2008), where they added a solid and consistent dose of post-rock nostaliga and then on the mastodontic double album Sentimentale Jugend (2016), where Klimt shows a darker, louder and even more dreamy side.
On this article, written in both italian and english, it's my pleasure to have founder, composer and singer/guitarist Marco Soellner here to selected 10 records that had a particular impact on him, as an artist, as a songwriter and as a person.
Tears for Fears "Songs From the Big Chair" (1985)
Songs from the big Chair fu la prima musicassetta che io e mio fratello comprammo quando eravamo bambini. Ricordo che mio padre verso la metà degli anni ottanta cominciò a spronarci ad ascoltare musica che piacesse a noi, diversa quella che potevano scoprire nella sua collezione. Ci dava ogni tanto una cifra destinata appositamente all'acquisto di dischi, così comprammo questo album i cui singoli (Shout, Everybody Wants to Rule the World e Head over Hill) erano in heavy rotation su Videomusic. Ascoltammo questo disco tutti i giorni per mesi e poi per anni imparando ad amare anche brani intimisti meno conosciuti come The Working Hour, I believe e soprattutto Listen che è una perla assoluta, a metà strada tra synthpop e dream wave malinconica. Riascoltandoli dopo 35 anni mi sembra evidente che abbiano avuto un'influenza determinante nel mio modo di scrivere canzoni.
Songs from the Big Chair has been the very first cassette that me and my brother have ever bought when we were kids. I remember that my father around mid 80's started to encourage us to listen to music we liked, different then the one we could discover from his collection.
Sometimes he used to give us some money intended specifically for the purchase of records, so we bought this album whose singles (Shout, Everybody Wants to Rule the World and Head over Hill) were in heavy rotation on Videomusic. We listened to this record every day for months and then for years, learning to love also lesser known songs such as The Working Hour, I believe and in particular Listen, which is an absolute jewel, halfway between synthpop and melancholic dream wave. Listening to them again after 35 years confirms to me in a very clear way that they had a decisive influence on my way of writing songs.
Vangelis "Blade Runner OST" (1982)
Un tempo ascoltavo questo disco per sfuggire all'insonnia e immedesimarmi in una dimensione remota, un futuro/passato bloccato tra i ricordi della mia infanzia e la malinconia per il domani che non ha mai trovato compimento. Continuo ad ascoltare la colonna sonora di Blade Runner nel cuore della notte, a bassissimo volume, quando non riesco a dormire e non trovo altra soluzione se non quella di aggrapparmi ai synth monofonici di Vangelis; anche se ora è come percorrere tutte le strade perdute delle mie aspirazioni. Blade Runner Blues, la canzone che più di tutte evoca la nostalgia lacerante per il non vissuto attua in me una sorta di disconoscimento: un Marco diverso, in un luogo diverso, in una città diversa, un lavoro diverso, persone diverse attorno a me come se da qualche parte nel passato, la linea del tempo fosse stata deviata in una tangente creando un oggi alternativo. Quella tangente è l'unica realtà percorribile, adesso. Del mio vero futuro rimane lo spettro, un aura ectoplasmatica, il segno di un quadro lasciato sul muro per decenni che non mi ricordo di aver mai appeso.
In the past I used to listen to this record as an escape to insomnia identifying myself in a remote dimension, a future/past stuck between memories of my childhood and melancholy for the future that has never found fulfillment. I still listen to the Blade Runner soundtrack in the middle of the night, at a very low volume, when I can't sleep and I can't find any other solution than holding myself to Vangelis' monophonic synths; even if now it feels more like walking all the lost paths of my aspirations. Blade Runner Blues, the song that most of all evokes the piercing nostalgia for the unlived, implements a sort of disavowal in me: a different Marco, in a different place, in a different city, a different job, different people around me, like if somewhere in the past, the timeline had been deflected into a tangent creating an alternate today. That tangent is the only viable reality now. Of my actual future remains only the specter, an ectoplasmic aura, the mark of a painting left on the wall for decades that I don't remember ever hanging.
Dead Can Dance "Within the Realm of Dying Sun" (1987)
Within the Realm of Dying Sun è un sogno ombroso, una suggestione neoclassica fuori dal tempo. Ha il potere di astrarre l'ascoltatore dalla realtà che lo circonda e proiettarlo in una dimensione di sospensione e rarefazione. Ogni volta che lo ascolto mi sento come un archeologo che trova nel terreno le tracce di un antico dromos sepolto sotto le radici degli alberi. È tangibile la tensione verso il disseppellimento e il rinvenimento. Come se la musica fosse una discesa nella terra, fino alla soglia di una tomba ricavata nel tufo vecchia di tremila anni.
Within the Realm of Dying Sun is a shadowy dream, a timeless neoclassical suggestion. It has the power to abstract the listener from the reality he's surrounded by and project him into a dimension of suspension and rarefaction. Every time I listen to it I feel like an archaeologist who finds in the ground the traces of an ancient dromos buried under the trees' roots. The tension towards excavation and discovery is perceptible. As if the music was a descent into the earth, up to the threshold of a tomb carved into three thousand years old tuff.
David Sylvain "Secrets of the Beehive" (1987)
Secrets of the Beehive è uno di quegli album usciti nella seconda parte degli anni ottanta che diluivano l'esperienza new wave nella sperimentazione cameristica, come stava succedendo all'altrettanto seminale Spirit of Eden dei Talk Talk. Un terreno sonoro che poi avrebbe dato i suoi frutti post rock all'inizio del decennio successivo. Sylvian lo registrò quasi per caso mentre stava collaborando con Holger Czukay dei Can a Plight and Premonition l'album ambient che i due fecero uscire alcuni anni dopo. Si tratta quindi di un'opera discontinua, scaturita dall'improvvisazione e da un'incessante ricerca. Lo considero difatti un album di appunti di viaggio. Una sorta di collezione di oggetti sonori raccolti qua e la, ognuno impregnato di sapori diversi ma accomunato dalla stessa aura malinconica e nostalgica. La splendida copertina di Vaughan Oliver che ritrae un arenile marino dove giacciono oggetti trasportati dalla risacca, ha poi indubbiamente influenzato questa mia percezione.
Secrets of the Beehive is one of those albums released in the second half of the 80's that diluted the new wave experience into chamber experimentation, alongside the equally seminal Spirit of Eden by Talk Talk. A sound ground that would have then created the roots of post rock at the beginning of the following decade. Sylvian recorded it almost by accident while he was collaborating with Holger Czukay from Can on Plight and Premonition, the ambient album that the two released a few years later. It is therefore a discontinuous work, resulting from improvisation and incessant research. In fact, I consider this an album of travel notes. A sort of collection of sound objects taken from here and there, each imbued with different flavors but united by the same melancholic and nostalgic aura. Moreover Vaughan Oliver's splendid cover, which portrays a seashore where objects transported by the surf lie, has undoubtedly influenced this perception I have on the album.
Fields of the Nephilim "Elizium" (1990)
Ho ancora i brividi se penso alla prima volta che ho ascoltato questo disco, ormai 25 anni fa. Quello che mi ha subito colpito di Elizum è il lavoro straordinario svolto dai due chitarristi Paul Wright e Peter Yates. Le canzoni sono infatti disseminate di feedback, loop concentrici di tremolo, droni ambient e rumori che rendono il sound dell'album tridimensionale e affascinante. La lunga coda di At the Gates of Silent Memory è magia pura: una sorta di liquida, ripetitiva oscurità sovrastata dalla voce indimenticabile di Carl McCoy che declama testi criptici influenzati dalla mitologia sumerica. I brani poi sono tutti collegati tra loro, fusi in un unico stream emozionale. Nascono e muoiono in lunghe scie soniche. Trip totale.
I still have chills when I think about the first time I listened to this record 25 years ago. What immediately struck me about Elizum is the extraordinary work done by the two guitarists Paul Wright and Peter Yates. The songs are in fact soaked with feedbacks, concentric tremolo loops, ambient drones and noises that make the album's sound three-dimensional and fascinating. The long At the Gates of Silent Memory is pure magic: a sort of liquid, repetitive darkness dominated by the unforgettable voice of Carl McCoy who declaims cryptic lyrics influenced by Sumerian mythology. The songs are also all linked together, merged in a single emotional stream. They are born and die in long sonic trails. Total trip.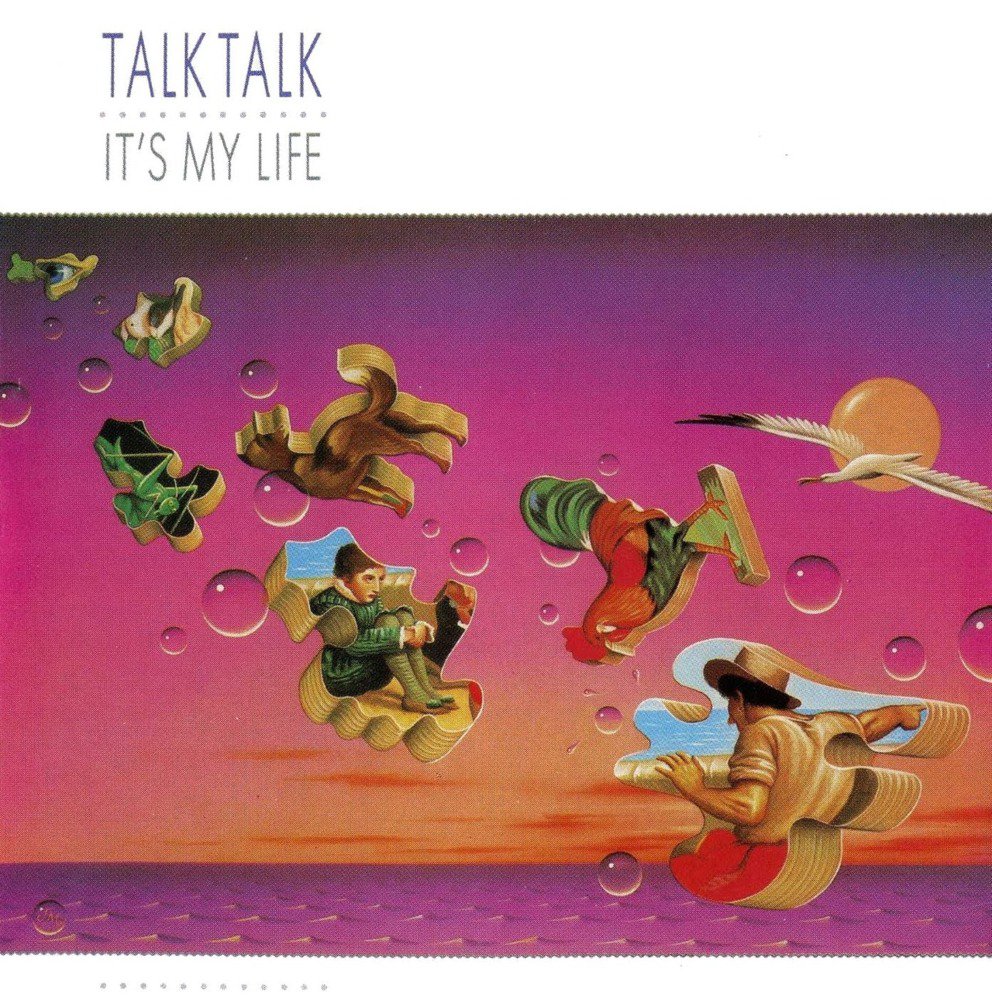 Talk Talk "It's My Life" (1984)
Ho amato tutte le incarnazioni dei Talk Talk: dal synthpop romantico degli esordi, passando per la svolta acustica intimista, fino alla definitiva destrutturazione post rock. Ma il mio disco preferito rimane It's My Life forse perché mi ricorda l'infanzia negli anni ottanta e poi il periodo dei primi anni universitari in cui cominciavo ad approfondire seriamente la conoscenza dell'universo new wave. It's My Life è sostanzialmente un album pop concepito per dominare le classifiche. Eppure in esso, come anche nel precedente omonimo debutto sono presenti in nuce tutti gli elementi che avrebbero poi contraddistinto la proposta musicale di Mark Hollis e Paul Webb, ovvero accordi minori, lirismo malinconico e un certo sotterraneo rifiuto dell'edonismo ottantiano.
I loved all the incarnations of Talk Talk: from the early romantic synthpop period, through the intimate acoustic turn, to the definitive post rock deconstruction. But my favorite record remains It's My Life, perhaps because it reminds me of my childhood in the 80's and then the period of my first university years in which I began to seriously deepen my knowledge on the new wave universe. It's My Life is basically a pop album created for dominating music charts. Yet in it, as well as in the previous homonymous debut, all the elements that would later distinguish the musical proposal of Mark Hollis and Paul Webb are present in a nutshell; namely minor chords, melancholic lyrics and a certain rejection of 80's hedonism.
Godspeed You! Black Emperor "Slow Riot for New Zerø Kanada" (1999)
È sempre arduo preferire un album nella discografia dei GY!BE. Io li amo tutti e non smetto mai di citarli nei miei ascolti. Stavolta scelgo Slow Riot for New Zero Kanada, un EP uscito nel 2000 che contiene Moya quella che io ritengo la loro più bella canzone di sempre. Si tratta di una reinterpretazione della terza sinfonia (Symfonia pieśni żałosnych) di Henryk Górecki sviluppata su un unico, imponente crescendo. Alla fine del settimo minuto, dopo un lungo climax il brano esplode in una cavalcata epica e tristissima. Uno dei momenti più alti del post rock cameristico. Come tutti i prodotti Constellation anche SRFNZK ha un layout semplice ma elegantissimo con scritte e disegni dorati su carta nera opaca color antracite. In copertina è riprodotto il Tohu VaVohu (Senza forma e vuoto) un passo/pittogramma della Bibbia tratto dalla Genesi, nel retro invece lo schema per la realizzazione di una bomba Molotov in italiano. Una sorta di sistema simbolico sulla condizione umana compresa tra la creazione e la rivolta, ovvero il suo momento culminante. La commistione di citazioni religiose/spirituali e politica militante è un tratto della poetica dei GY!BE che ho sempre trovato molto affascinante. Trovo completi la dimensione ieratica e solenne della loro musica.
It's always hard to choose a favourite album from GY!BE's discography. I love all of them and I always mention them when I talk about my listenings. This time I choose Slow Riot for New Zero Kanada, an EP released in 2000 that contains Moya, which is according to me their best song ever. It is a reinterpretation of Henryk Górecki's third symphony (Symfonia pieśni żałosnych) developed on a single, imposing crescendo. At the end of the seventh minute, after a long climax, the song explodes into an epic and very sad section. One of the highest moments of post rock chamber music. Like all Constellation releases, SRFNZK also has a simple but very elegant layout with golden lettering and drawings on matt anthracite black paper. On the cover there's a reproduction of the Tohu VaVohu (Without form and void) a passage/pictogram of the Bible taken from Genesis, on the back instead there's the scheme for the realization of a Molotov cocktail in Italian. A sort of symbolic system on the human condition between creation and revolt, in other words, its climax. The mix of religious/spiritual quotes with militant politics is a trait of GY!BE's poetic that have always fascinated me.I think it fulfill the solemn dimension of their music.
A Silver Mount Zion "He Has Left Us Alone but Shafts of Light Sometimes Grace the Corner of Our Rooms…" (2000)
Nati da una costola dei GY!BE, gli A Silver Mount Zion hanno sviluppato nel tempo uno stile più punk e sperimentale rispetto a quello della band madre. Nonostante tutto, però questo disco, che rappresenta il loro esordio discografico, risulta ancora legato alla matrice post rock/cameristica anche se con qualche eccezione/divagazione vocale, che poi diventerà l'elemento caratterizzante degli album successivi. Mi riferisco soprattutto a 13 Angels Standing Guard 'round the Side of Your Bed, un brano costruito su delle tracce di cantato fatte suonare al contrario che donano alla composizione un atmosfera fantasmagorica assurda. Forse la canzone più spettrale e malinconica che abbia mai ascoltato.
Started by three members of GY!BE, A Silver Mount Zion have developed over the time a more punk and experimental style compared to their parent band. But even so, this album, which represents their discographic debut, is still linked to the post rock/chamber style even if with some exceptions/vocal digressions, that will later become characterizing elements of the following albums. I am referring in particular to 13 Angels Standing Guard 'round the Side of Your Bed, a song built on vocal tracks played backwards that give the composition an absurd phantasmagoric atmosphere. Perhaps it is the most spooky and melancholic song I've ever heard.
Explosions in the Sky "Those Who Tell the Truth Shall Die, Those Who Tell the Truth Shall Live Forever" (2001)
Sono molto legato a questo disco perché l'ho ascoltato per la prima volta di notte, in treno, mentre tornavo da Parigi nel lontano 2003. Ricordo che all'improvviso il convoglio si è fermato in mezzo alla campagna e il personale ci ha fatto evacuare a causa di un incendio. Ho ancora chiara in testa l'immagine delle fiamme altissime che si sprigionavano da una delle carrozze e illuminavano i campi avvolti nell'ombra. Io avevo ancora le cuffie con Those Who Tell the Truth che girava nel cd player portatile. Mi sembrò quasi un segno del destino, una sorta di predestinazione aver ascoltato per la prima volta una band con un moniker così perfettamente armonizzato a quella visione assurda e affascinante.
I am very attached to this record because I've listened to it for the first time at night, during a train travel, on my way back from Paris back in 2003. I remember that all of a sudden the convoy stopped in the middle of the countryside and the staff evacuated us due to a fire. I still have a clear image of the towering flames rising from one of the carriages and enlightening the fields shrouded in shadow. I still had headphones on with Those Who Tell The Truth running through the portable cd player. It seemed almost a sign of destiny, a kind of predestination to have heard for the first time a band with a moniker so perfectly harmonized with that absurd and fascinating vision.
Burzum "Filosofem" (1996)
Scelgo di inserire Filosofem nella mia lista per due motivi: per testimoniare la mia lunga appartenenza al movimento death/black metal, iniziata nei primi anni 90 e conclusasi due lustri più tardi, e per ricordare a me stesso come quell'esperienza dello spirito non sia stata casuale ma invece legata a un preciso modo di stare al mondo. Qualcosa che non si perde mai del tutto con il passare degli anni ma si trasforma in una sensibilità differente e complementare. Burzum testimonia molto bene questa circolarità. I sui riff sono concentrici, come droni che catturano il pensiero e lo fanno girare e focalizzare sul trascendente. In virtù della sua natura meditativa questo black metal è eterno. Si è adattato a stagioni diverse della mia vita e continua a fare parte delle mie giornate. Brani come Gebrechlichkei e Rundgang Um Die Transzendentale Saule Der Singularitat sono scivoli verso l'infinito, strade di accesso alla religiosità, anche se si parte da solide basi laico materialiste. Non mi sono mai preoccupato di approfondire troppo la poetica norrena di Varg Vikernes. Non mi interessa il suo modo di vedere il mondo. Non ho mai considerato il suo personaggio politico/messianico. Ascolto da 25 anni la sua musica unicamente per foraggiare la mia personale, privata psichedelia.
I decided to include Filosofem on my list for two reasons: to testify to my longtime membership in the death/black metal movement, started during early 90's and ended two decades later, and to remind myself how that experience of the spirit was not random, but instead linked to a specific way of staying in the world. Something that you'll never completely lost over the years, but that becomes a different and complementary sensitivity. Burzum testifies this circularity very well. His riffs are concentric, like drones that capture thoughts and make them spin and focus them on the transcendent. By virtue of its meditative nature this black metal is eternal. It has adapted to different seasons of my life and continues to be part of my days. Tracks like Gebrechlichkeit and Rundgang Um Die Transzendentale Saule Der Singularitat are slides towards infinity, access roads to religiosity, even if everything starts from solid materialistic laical basis. I've never been interested to delve too deeply into Varg Vikernes' Norse poetics. I don't care how he sees the world. I've never ever considered his political/messianic persona. I have been listening to his music for 25 years solely to feed my personal, private psychedelia.